Salish Sea New Music

2018
~ Period Instrument chamber music from our own time ~
New Music by William O. Smith

:


Port Townsend:
Saturday afternoon,

October 27

at 2 PM at St. Paul's Episcopal Church

~ 1020 Jefferson Street in Port Townsend
·

(360) 385-0770 ~

Whidbey Island:
Saturday,
October 27

at 7 PM at St. Augustine's in-the-Woods Episcopal Church in Freeland

~ 5217 S. Honeymoon Bay Road in Freeland
· (360) 331-4887 ~

Conway

(Mount Vernon)
:
Tuesday,

October 30

at 7 PM at Fir-Conway Lutheran Church

~ 18101 Fir Island Road in
Conway · (360) 445-5396 ~
Seattle:
Friday,

November 2

in the Chapel Performance Space

~ 4th floor, Good Shepherd Center, 4649 Sunnyside Avenue N. in Seattle
~

Orcas Island:
Saturday,
November 3

at 7 PM at Odd Fellows Hall

~ 112 Haven Road in
Eastsound ~

Lopez Island:
Sunday afternoon,

November 4

at 2 PM at Grace Church

~ 70 Sunset Lane on Lopez Island
· (360) 468-3477 ~

San Juan Island
:
Sunday,
November 4

at

7 PM

at Brickworks
~ 150 Nichols Street in Friday Harbor
~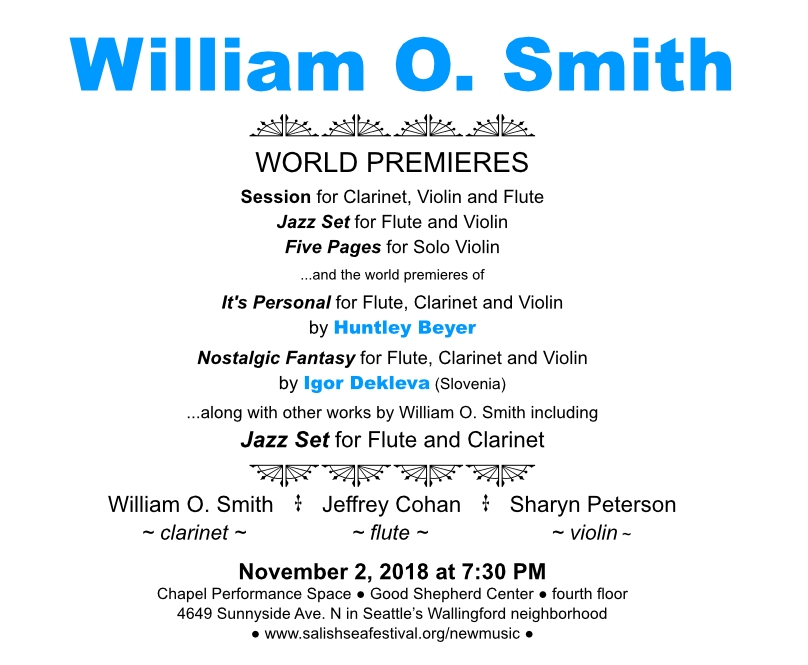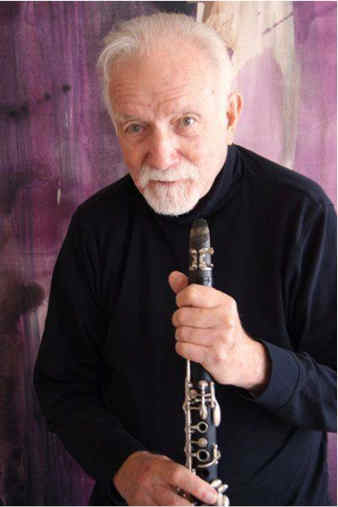 The groundbreaking clarinetist and composer

William O. "Bill" Smith

recently turned 92 and is well known not only to Northwest audiences but to jazz fans and clarinetists throughout the world. A founding member of the

Dave Brubeck Octet

, Smith pioneered the use of multiphonics on clarinet in the 1960s and has continued to experiment with extended techniques throughout his life. Born in Sacramento, California, he studied at Juilliard, Mills College, the University of California–Berkeley and the Paris Conservatory, and his longest teaching appointment was at the University of Washington, where he taught composition, clarinet and contemporary music for more than 30 years. He has enjoyed great success over seven decades as a composer and performer. He is still writing and performing music, recently at a residency at the Bologna Conservatory in Italy, and continues to teach composition and clarinet at his home in Seattle's Ravenna neighborhood.




~ updated October 23, 2018 ~


Do you receive our email announcements and flyers?!
Please sign our

MAILING LIST


by sending your address and any other comments to


salishseafestival@aol.com ~ thank you!


SSEMF banner: detail from "The Last Time it Reached Zero" by James C. Holl.